Good morning!
Here's a quick summary of important, ignored and interesting reports from the weekend to kick-start your day:
Important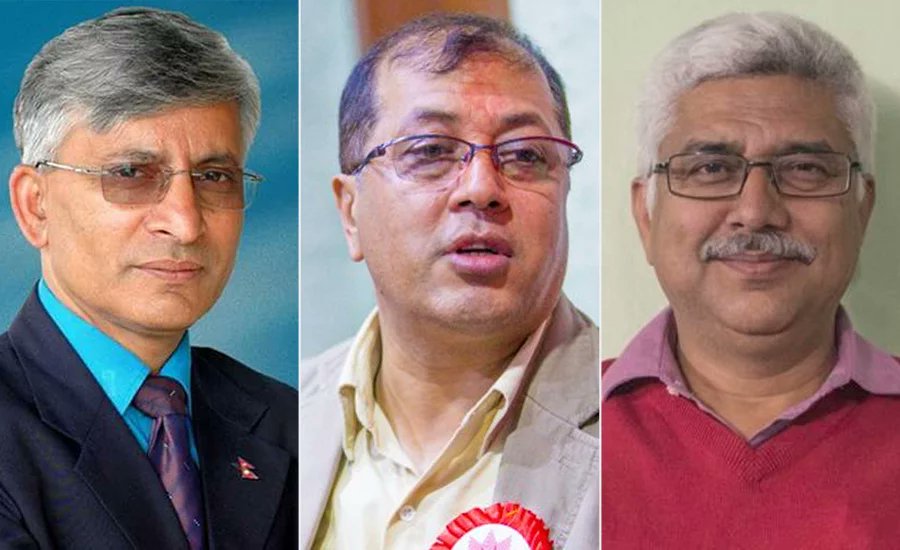 PM fires secretariat members
All the members of the Prime Minister KP Sharma Oli's secretariat have resigned upon request from the prime minister. Sources say there are also talks of a cabinet reshuffle. According to an NCP source, PM Oli summoned all of his secretariat members and asked them to resign on Friday. Chief political advisor Bishnu Prasad Rimal, foreign affairs advisor Rajan Bhattarai, public relations advisor Achyut Mainali, press advisor Kundan Aryal, IT advisor Asgar Ali and personal secretary Indra Bhandari among others have resigned. Members of the secretariat had been facing stern criticism within the ruling Nepal Communist Party (NCP) for barring the party's leaders from meeting the prime minister.
Govt to start diplomatic efforts to reclaim Kalapani
The government is set to take diplomatic initiatives to resolve disputes on the Nepal-India border, including Kalapani. This comes after senior leaders of all major parties met on Saturday to discuss how to take the issue forward. Addressing the meeting, Prime Minister KP Sharma Oli said a wider national consensus was forged in strengthening the government voice for resolving border disputes. He said that the government would initiate effective diplomatic dialogues with the Indian government based on the strong foundation of national consensus and unity.
Ignored
Roop Jyoti, daughter remanded in custody for three days
Kathmandu District Court on Friday remanded businessman and former Assistant Minister for Finance Roop Jyoti and his daughter Suruchi Jyoti in custody for three days over a dupery case. Police had sought seven-day judicial custody for the accused to investigate the case filed against them for conning people through a real estate business. Both of them were arrested from Tribhuvan International Airport after Supreme Court quashed an earlier interim order to bar the arrest.
Dr KC hospitalised
Medical education reform activist Dr Govinda KC, who is on his 17th fast-unto-death, has been admitted to Dadeldhura Hospital. According to doctors, KC was admitted to the hospital because his health was weakening. KC started his 17th hunger strike in Dadeldhura on November 4. On October 15, the senior doctor had warned of a fresh hunger strike if his seven-point demands were not met by the government.
Bangladesh President to arrive in Kathmandu on Tuesday
Bangladeshi President Md Abdul Hamid is paying an official visit to Nepal on Tuesday. According to a statement released by the Ministry of Foreign Affairs, the Bangladeshi president will be visiting in Nepal from November 12 to 15. During the visit, he will meet his Nepali counterpart Bidya Devi Bhandari, Prime Minister KP Sharma Oli, chairperson of the National Assembly Ganesh Timilsina and Minister for Foreign Affairs Pradeep Gyawali. Leaders of various political parties will also call on him.
Interesting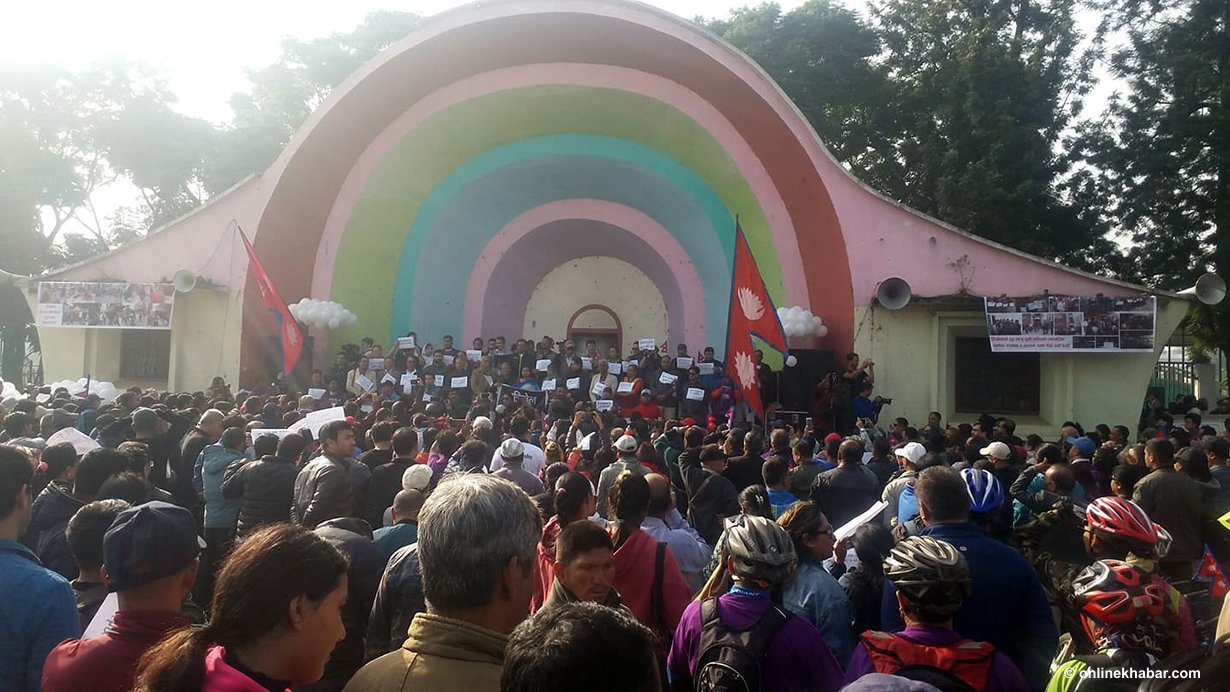 Occupy Tundikhel begins as campaigners form a human circle
Occupy Tundikhel, a campaign to end encroachment of the large grass-covered ground in the center of Nepal's capital Kathmandu, started on Saturday. The protest that started with the symbolic activities like signing the petition and submitting the memorandum to the concerned authority got momentum with wider public support. Other programmes that will be a part of the campaign includes art shows, cultural shows and photo exhibitions.
MCC beat Nepal in one-off T20 by 113 runs
Marylebone Cricket Club (MCC) have beaten the Nepali cricket team by 113 runs in a T20 cricket match played at Tribhuwan University cricket ground on Saturday.
After winning the toss, the MCC opted to bat first and posted a mammoth target of 190 runs. Billy Goldman hit quickfire 54 for the MCC while Ed Young scored 42.
Chasing the target, Nepal managed to score only 76 runs losing all the wickets in 13.1 overs. Rashid Khan with 18 runs was the highest scorer for Nepal while Sandeep Jora, Kushal Bhurtel and Bhim Sarki added 16, 14 and 13 runs to their side respectively.
The MCC will now travel to Pokhara for two T20 matches.