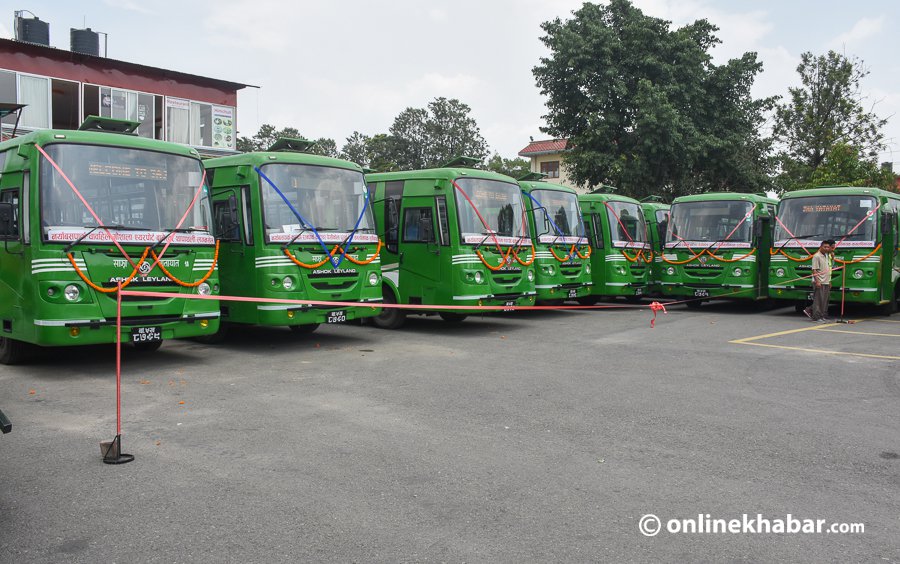 Kathmandu, October 20
The transport ministry has ordered Sajha Yatayat, which was preparing to procure 300 electric buses to ply in Kathmandu and outside the capital, to halt the procurement process.
The surprise decision was conveyed to Sajha Yatayat, a co-operative with government investment, without furnishing the reasons behind it. The directive from the Ministry of Transport and Physical Infrastructure has left Sajha officials puzzled.
The directive comes a year after the government decided to procure 300 electric buses and provided money to Sajha to do so by July 2019. But as the tender process was about the begin, the government backtracked on its decision to provide the money to Sajha.
"No one questioned us when we procured buses with the help of Kathmandu Metropolitan City. We make sure that the whole process is transparent. I don't know why the government/ministry has problems," said a Sajha official.
The government in August last year gave Sajha Yatayat Rs 3 billion to purchase electric buses. Similarly, Province 3 set aside Rs 300 million and Kathmandu Metropolitan City, Lalitpur Metropolitan City and Sajha Yatayat set aside nearly Rs 250 million for the electric buses.
After the funds were collected, a team from the ministry and Sajha Yatayat visited India to observe the Chinese electric buses plying Indian roads. After the team returned, Sajha decided to start the procurement process.
Sajha Yatayat then proposed that 50 buses be bought under the G2G model. The government, however, was not happy with the proposal. The government didn't want to opt for the G2G model. Sajha Yatayat, on the other hand, says that it proposed such a model as it felt the buses would arrive faster if the governments were involved. The government, however, declined Sajha Yatayat's proposal.
"If we went through all the processes, it would take a long time before the buses arrived. Minister Mahaset during a press conference had said that the buses would arrive by October. For that to happen, we had to go with the G2G model," adds another official working at Sajha.
However, an official working at the Transport Ministry told Onlinekhabar that they have asked Sajha to halt the procurement as they received complaints from bus companies that Sajha was going to buy low-end buses at a higher price.
With the government's orders, questions are arising regarding the Rs 3 billion given to Sajha by the government. High ranking officials at Sajha say that the money given to Sajha by the government is the government's share in the company. They add that if the government plans to withdraw the money, it will have to go through a formal procedure.
"We prepared the specification based on suggestions from government engineers. We don't think we are in the wrong where. The decision to halt the procedure has left us in shock," adds the high ranking official at Sajha.