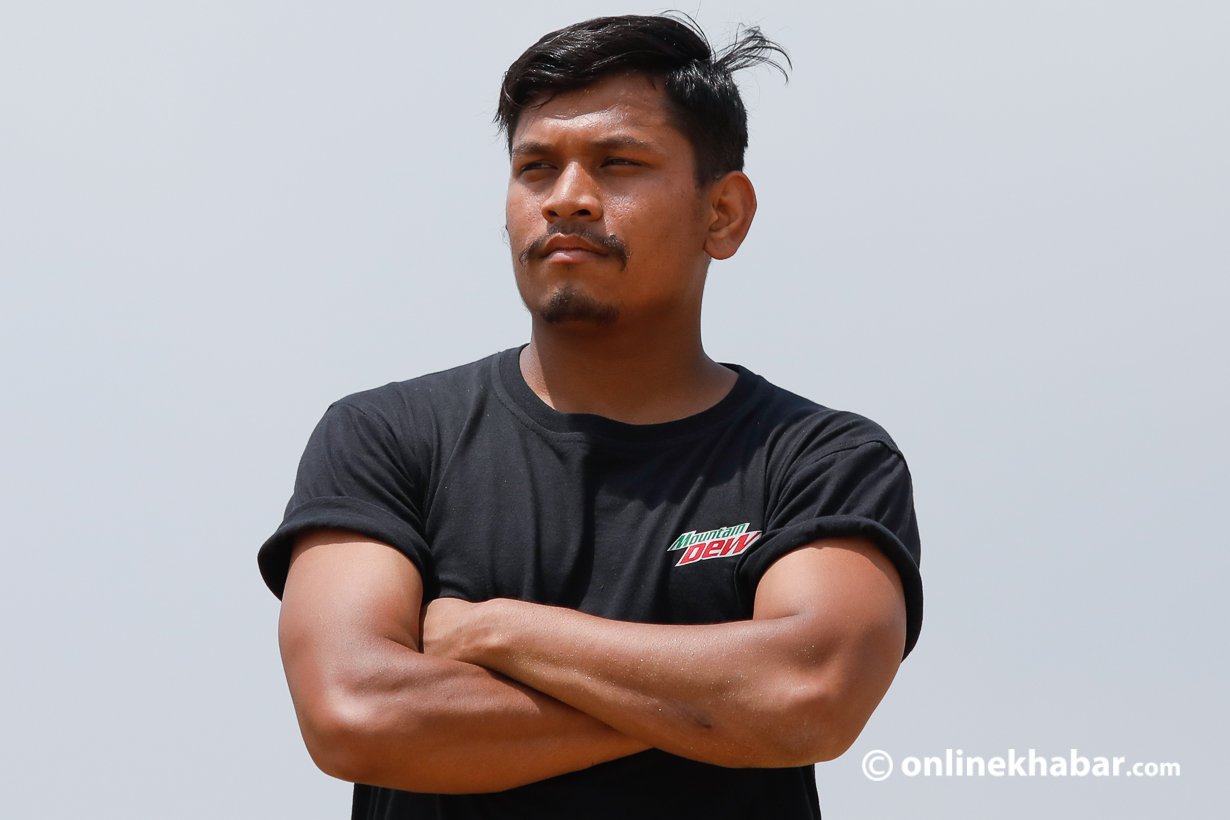 Jumping around the terraces of farmlands in his village in Khotang district of eastern Nepal, Dinesh Sunar didn't know that one day the skill he picked up as a child would help him set not one, but two world records.
"I recall people telling me to stop jumping around like a monkey. They said that I'd hurt myself, but look at me now! I have two world records to my name and am now on the verge of getting the third," he says.
Sunar, arguably, is the 'king' of a jumping sport called parkour in the country.
When the child's play turns into profession
He grew up in Kathmandu. As his parents would work for a garment factory, he could go to sand mines nearby, and spend time jumping around with his friends, somersaulting and rolling around.
"I didn't have a clue that I was doing parkour. I was just having fun. For the most part of my life, I thought I was doing gymnastics," he shares.
But at the age of seven, he had to go back to his village in Khotang after his father left for Qatar. But that didn't stop him from doing what he loved.
"Going back to my village gave me a chance to polish my skills. The terraces of paddy fields and the hills were perfect to develop my skill and that is exactly what happened. People did question me then, but I never paid much attention to them anyway."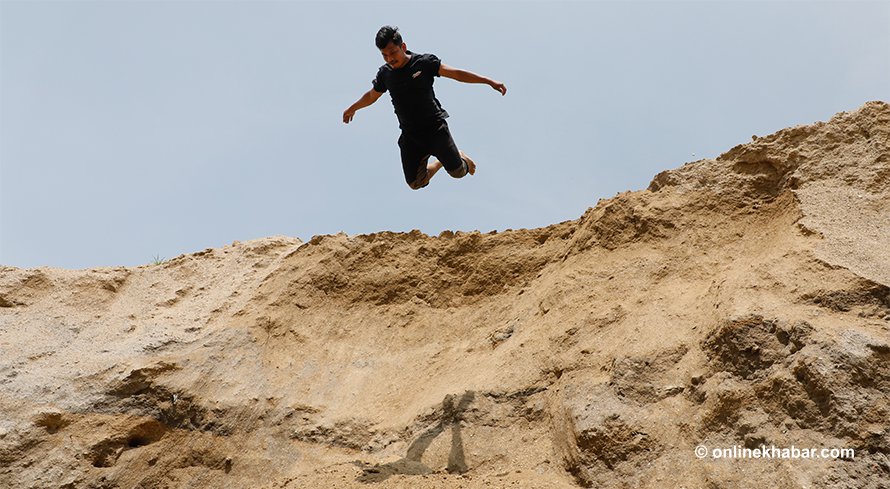 Slowly, people in his village started to enjoy the things that Sunar did. People felt that the young boy had the talent and gave him the opportunity to showcase that talent in various events. It started with school events and slowly moved to districts where he wowed everyone.
"People come to Kathmandu for opportunities but I got mine in the village."
He says his main break came in 2010 where he caught the eye of then IGP of Armed Police Force Sanat Kumar Basnet. Basnet was in Khotang to attend a volleyball competition. That is where he saw Sunar jumping from the first floor of a school building and around the rice field. After seeing potential in the young kid, Banset asked Sunar to call him after he completed his grade 10 (SLC) examination.
After completing his SLC, Sunar didn't think twice and boarded a bus to come to Kathmandu. He then joined the APF's gymnastic team and started to take part in various competitions.
Into parkour without knowing it
"It was like a dream come true. I was an athlete and was also paid. It was huge for me."
Being a part of the APF, Sunar has won gold in various competitions. He says he enjoyed taking part in those events, but his true passion was parkour.
"I didn't know I was doing parkour until it saw a YouTube video some years back. Even though the two sports, gymnastics and parkour, seem similar, they are completely different. I then decided to take both gymnastics and parkour hand in hand. YouTube taught me a lot about this parkour."
Sunar then saw many parkour athletes creating world records. That made him want to create one himself. He says he wanted to make a name for himself and also wanted to put Nepal's name in the record books.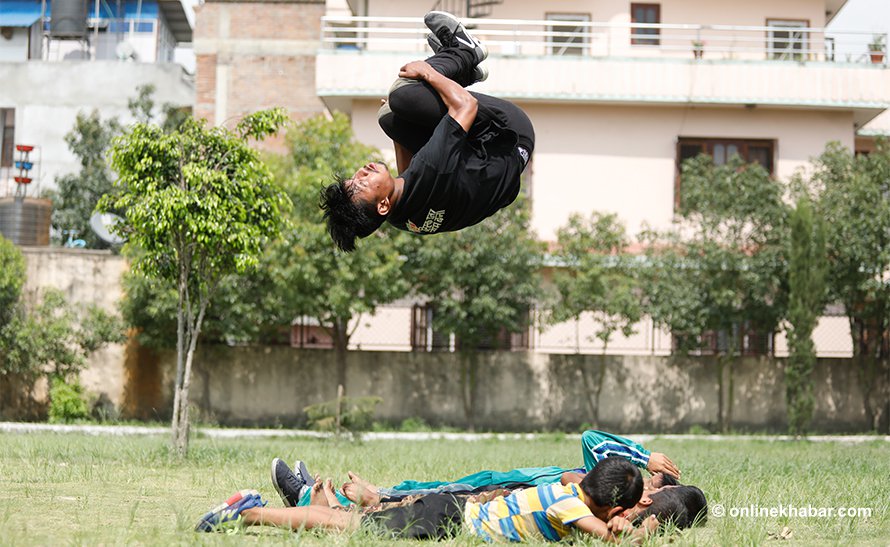 Two world records in one year
In 2018, Sunar set a world record for the most backward somersaults against a wall in 30 seconds, managing a staggering 16 somersaults record. He also did 18 backflips to set another world record for the most twisting backflips off a wall in one minute.
After his second world record, World Freerunning Parkour Federation invited him to take part in the 2018 Parkour World Cup. Surprising everyone, he came in the 10th position there.
"Everyone was amazed that a Nepali was taking part in the World Cup. Other athletes were shocked by what I had achieved with limited resources. I was extremely proud and happy."
He adds that even though Nepal has limited resources, the athletes here have a lot of heart and determination. After spending three months in the US, Sunar says he learnt a lot. Having never had proper training, Sunar says his time in the US was invaluable.
Sunar recently broke his own record of 'most twisting backflips off a wall in 30 seconds' and is awaiting confirmation from Guinness Book of World Records.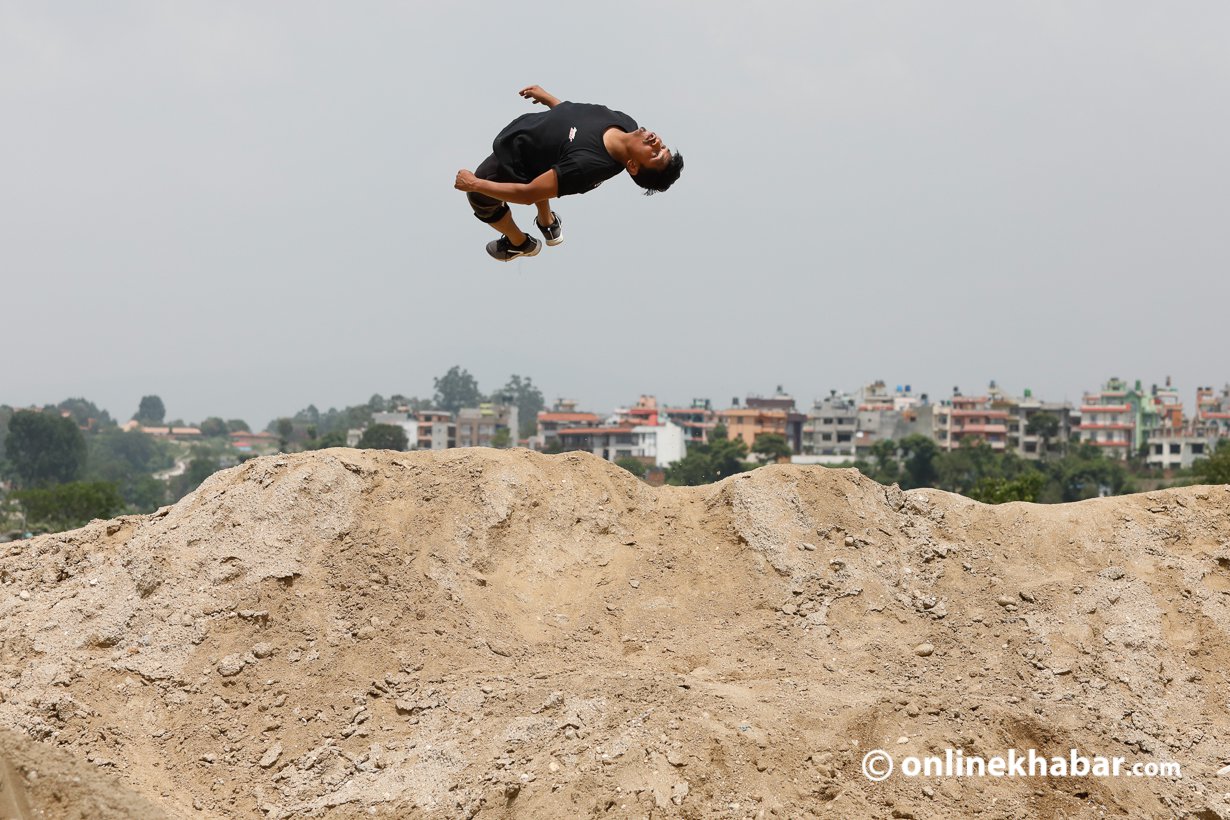 However, he feels that he needs to get away from Nepal to get better. He says living in Nepal puts him in a difficult position as most competitions take place in either Europe or the US.
"Athletes have to travel with their own money. And for me, that is not possible. It is hard to make ends meet here. Parents also complain that I don't make enough money. So it is hard. Sometimes I feel I should just leave Nepal."
Sunar says that his mother often questions his decision to come back from the US. But for Sunar, this is more than just money. He says he does understand that he has to help his family, but for now he has one goal – getting to perform at America's Got Talent.
"I know hard work will pay off. But how? I have no idea."