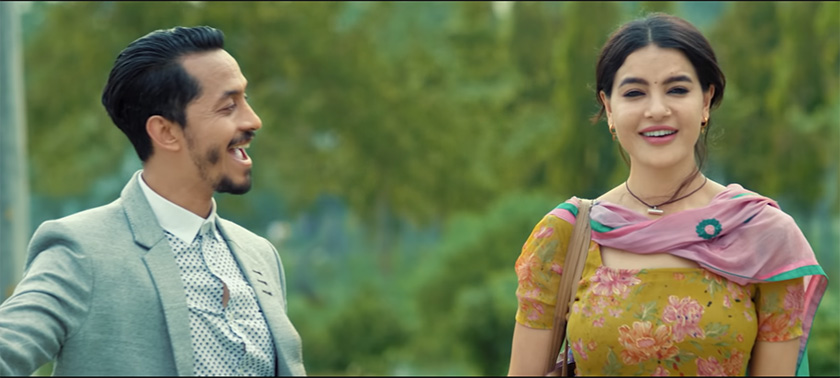 After a hiatus of two years, former Miss Nepal Shristi Shrestha is back with her second movie Romeo and Muna starring alongside Vinay Shrestha. Her performance in the movie is not only commendable, but it makes an average love story appealing and fun.
The movie revolves around Muna (Shristi Shrestha) and Ved (Vinay Shrestha) who have living different lives in different corners of the world. Muna is an independent girl who stays away from her family. Ved is a rich spoilt brat who is a womaniser. Both meet in Dharan when Ved's mother asks him to go there to see a girl she has selected for him. Both of them are stubborn and end up making a stupid bet which changes the lives of both forever.
The first half of the movie is quite enjoyable as it keeps you hooked with its good story line and funny dialogues. The chemistry between Shristi and Vinay stands out as both look very natural and good together. Apart from some scenes with Sushma Karki, the half is good as it flies by.
The second part of the film is not as good because a lot happens in it. It's a bit slow and as the first half is full of jokes, this one tends to be a bit serious which has made the film a bit intense. The ending is quite odd and predictable which stretches the movie over the two-hour mark and makes it a bit of a drag.
The actors have done a decent job with all giving their best. Shristi acting in her second film has acted better than her first film. She seems to have matured as an actor and has played her role well. The only part she still needs to work on is her emotion which will get better with more training. Her acting in the last part of the film is quite average which shouldn't take away her good work in the film.
Vivek too looks good as a spoilt NRN. Initially, he does look a bit odd but as the movie carries on, he gets better. His facial expressions and dialogue delivery is solid along with his chemistry with Shristi.
Sushma Karki who plays the role of Ved's ex-girlfriend is very odd in the film. She makes one cringe in multiple scenes and could have done a lot better. The director, to make the audience laugh, must have done it but it should have been carried out in a different manner.
The movie, written and directed by Naresh Kumar KC, is strong and original. It flows in a good pace and keeps the audience engaged. However, it does get a bit predictable in the end as the audience can find out what is coming. The direction is good too with director and the DOPs, Dipankar Sikder and Babu Shrestha, capturing the movie very elegantly.
Every love story must have good songs and this one has very good songs. Especially Pal Pal and Timrai Lagi Ho are particularly noteworthy. The background score given by Rohit Shakya and Sailesh Shrestha is flawless which complements the movie.
Overall, the movie, even though it's average, is an enjoyable watch. Average, yet it offers something different. The cast seem to have worked hard which has made this film a good watch.
---
Run time: 145 minutes
Genre: Romantic drama
Director: Naresh Kumar KC
Cast: Vinay Shrestha, Shristi Shrestha, PrajwalSujal Giri
Screening at cinemas near you.